Creamy chicken and rotini pasta
This creamy rotini pasta dish is perfect for any night of the week. It's easy, delicious and fast, everything you want to know when trying to figure out what to make for dinner.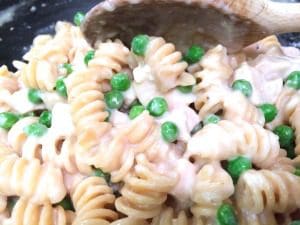 Cook the rotini pasta in boiling water to an al dente consistence about 10-12 or follow the directions of the pasta.
Dice the raw chicken into small cubes.
Add the butter to the pan and add the chicken.
Season the chicken with salt and pepper.
Cook the chicken for 6-8 minutes.
Next add the peas (rinse under water).
Next add the flour to the pan and cook for a few more minutes and don't forget to stir everything.
Add the milk and parmesan cheese and keep stirring.
Cook for 2-3 more minutes and finish by adding any last salt or pepper.
Serve.
2 chicken breast
1/2 cup frozen peas
4 cups rotini pasta
2-cup milk
4 tablespoons butter
2-tablespoon flour
4 tablespoons parmesan cheese grated
to taste Kosher Salt
Cracked pepper