The 4th of July is a magical time of year and though I make cake pops all year long I love the red, white and blue look of Cake pops uniced copythese beautiful desserts. Cake pops are not for the faint of heart, they take time and precision. Even though we want to encourage everyone to make them just know this is a great project but definitely a large undertaking!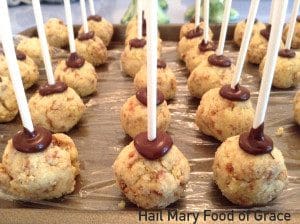 Cream the butter and sugar for 3 minutes
Add the milk and eggs and mix it well.
Then add the vanilla  (the mixture will look a little curdled).
In a separate bowl mix all of the dry ingredients together.
Add 1/3 of the dry ingredients and mix then add the second 3rd and mix and then add the last third and mix.
Pour the batter into a large round baking pan that has been sprayed with nonstick spray.
Bake the cake for 45-50 minutes until it's cooked in the middle.
Place on a baking rack and let it cool for an hour.
Now it's time to make the icing, softened the butter and mix the sifted powder sugar into the butter.
Add the vanilla and salt and set it aside.
Once the cake has cooled crumble the cake well and mix it with the icing
Then roll into balls (you can use a tablespoon to help measure out the amount in each ball).
Place the balls onto a cookie sheet that's been wrapped in plastic and refrigerate for an hour to three hours.
Next melt ½ cup of the white chocolate either in a bain marie or in the microwave (read the directions on the label of the bag).
Then dip the sticks into the melted chocolate and then stick it inside of the cake ball.
Place the cake balls on a cookie sheet lined with plastic or parchment paper.
Let the white chocolate harden for one to three hours in the refrigerator.
When the chocolate has hardened its time to begin the finishing touches.
In a Bain Marie melt the white chocolate.
Once it is melted dip the sucker stick into the chocolate and the chocolate end into the cake ball.
Dip the cake pop into melted white chocolate and then dip the top with sprinkles. Stick the cake pop into the Styrofoam
Let dry and enjoy!
We think you might also like our berry cobbler.
This recipe can be a bit easier if you use a box cake mix instead of making the cake from scratch.
Cake Pops
Cake Ingredients:
1 stick of butter unsalted butter
1/4 cup of vegetable oil
1½ cups of flour
1/2 cup of unsweetened cocoa powder
2 cups of sugar
3 extra large eggs
1-cup milk
1-teaspoon vanilla extract
1-teaspoon baking powder
½ teaspoon baking soda
½ teaspoon salt
 Icing ingredients:
2 cups powdered sugar, sifted
8 tablespoons unsalted butter, softened
1-teaspoon vanilla extract
1/8-teaspoon salt
To finish the cake pops:
2 lb of white melting chocolate.
Sucker sticks
Styrofoam board
Sprinkles