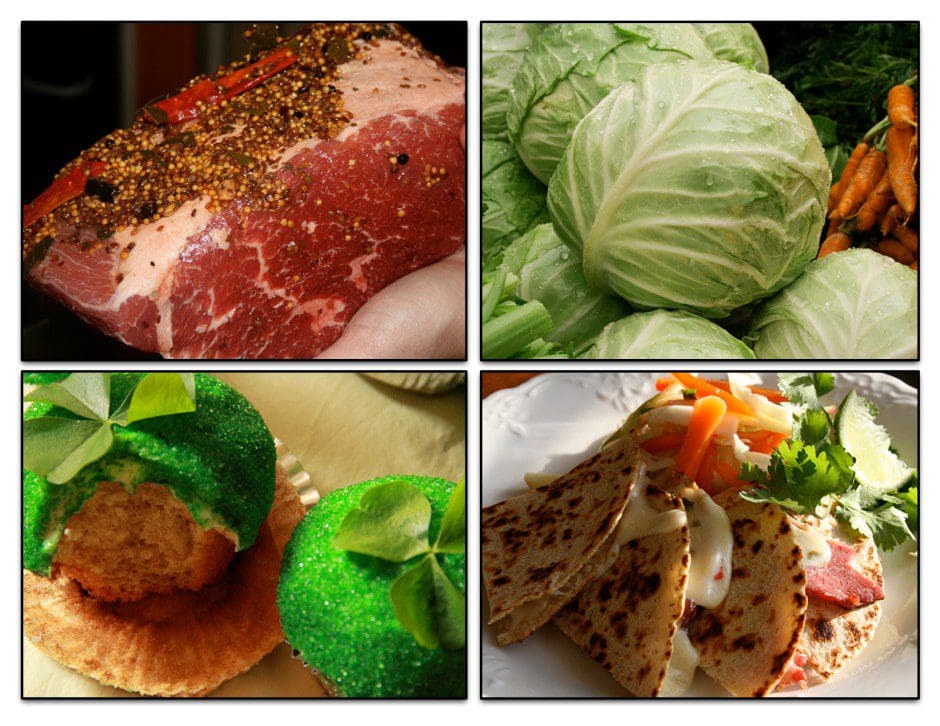 Los Angeles, – Every year St. Patrick's Day arrives and grocery store shelves are lined with traditional Irish foods to celebrate the occasion – corned beef, cabbage and Guinness. And that's a good place to start, but don't stop there. Here are a few more green ideas to help you plan the perfect St. Patty's Day event.
Traditional Corned beef – Corned beef brisket cooked with allspice berries, bay leaves, and mustard seeds.
Stewed Green Cabbage – Cabbage is usually added in to the corned beef braising liquid halfway through the cooking method.
Shaved red cabbage – Red cabbage can be an accent among all of the green; however, don't cook it with the meat because the red cabbage will dye the liquid.
Steamed red potatoes, also known as creamers and new potatoes. They are added to the corned beef as well to cook and absorb the braising liquid from the corned beef.
Guinness dark lager – Delicious dark beer
Black and Tan – Tasty beer made by mixing pale ale with Guinness.
Green beer- a very light beer with green food color added.
Guinness cupcakes – a vanilla cupcake with Guinness mixed into the cake batter.
Lamb Stew – a mixture of lamb stew meat, carrots, onion, stock, bouquet garnis and potatoes, braised on a low temperature for many hours.
A twist on the traditional. Try corned beef quesadillas made with leftover corned beef .
Shepherds pie. This is an Irish childhood favorite made by combining ground beef and spinach, topped potatoes.
Irish Stew- Made from mutton or lamb with potatoes, leeks, onions and stock.
Irish coffee, a mixture of coffee, Irish whiskey, brown sugar and cream.
Soda Bread – A traditional bread that uses baking soda as the leavening agent rather than yeast.
Shamrock sugar cookies – A simple sugar cookie cut in the shape of a shamrock with green frosting or green sprinkles.
Oven-roasted potato skins – Cut the skins off of a russet potato, add salt and cheese and roast them in the oven until they're soft and delicious.
Braised Leeks – Leeks can be a tasty side dish to any Irish meal. The leeks are both green and a traditional vegetable.
Oatmeal Cookies with green M&Ms – Oatmeal is a traditional Irish grain and made into a cookie it's a great dessert.
Leek and potato soup. Combine two traditional foods made into a hearty dish.
Re-baked potatoes with scallion butter – Simple russet potatoes baked in the oven with abutter that was premixed with minced scallions.
Guinness Braised beef. Use Guinness as the braising liquid.
Apple and Irish whiskey bread pudding – Use the soda bread, apples and Irish whiskey to create a mouthwatering bread pudding.
Green Ideas
Andes Green mints
Green M&M's
Green apple jolly ranchers
Green truffles
Green White chocolate cake pops
Green Tea
Pistachios
Sugar cookies with green frosting
Green Cupcakes with dark green frosting
Key lime pie
Green pancakes
Donuts with green frosting
Deviled green eggs
Green whipped cream
Zucchini Tart
Spinach Soufflé
Pesto sauce
Steamed Green beans
Asparagus
Artichokes with a green basil aioli
Leafy green salads
Green Apples
Guacamole
Sour cream dyed green
Cream cheese dyed green
Ranch dressing dyed green
Yogurt dyed green
Cottage cheese dyed Green
Happy St. Patrick's Day!