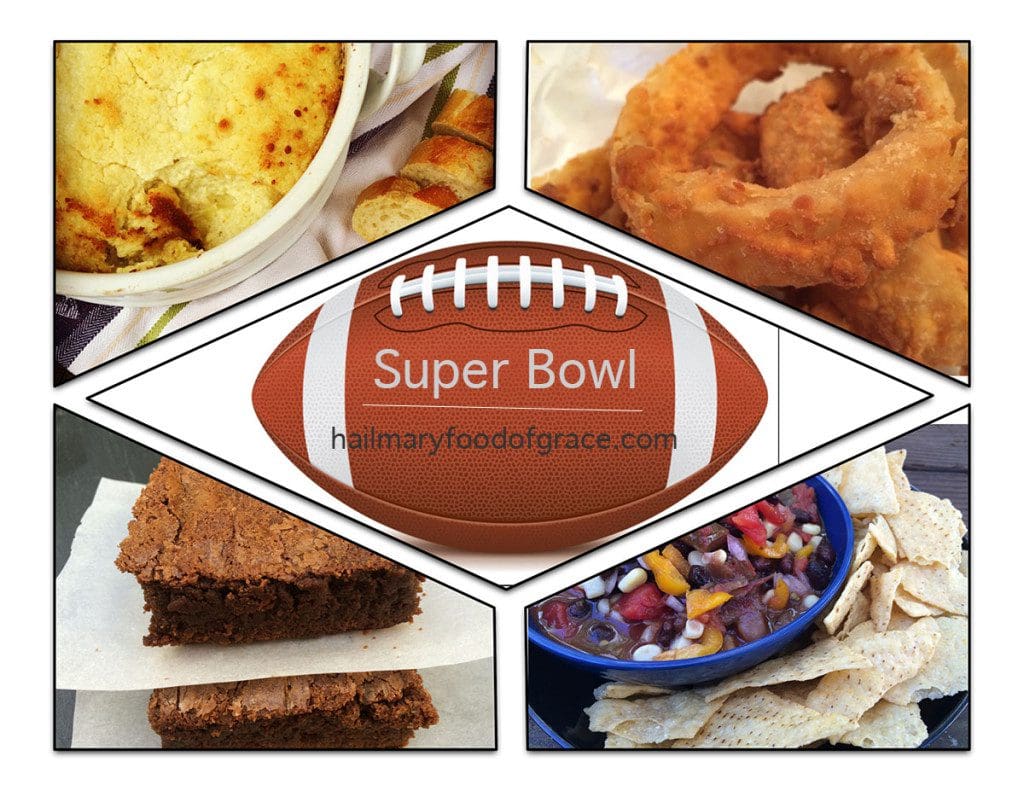 A guide on what to serve:
Snacks: Let's face it people want to eat immediately when they get to a super bowl party, so have some food ready to go. Spread the food to all the different TV watching stations, and try having the same thing in each area so people don't feel cheated. This is the only party where guests tend to stay in one place.
Chips and: salsa, guacamole and 7 layer dip
Carrots and celery and: blue cheese dip, ranch dressing and Thousand Island dressing
Crackers (Ritz, Triscuit and the rectangle one) and: cheese, salami and cream cheese pepper jelly
Hot Snacks: These take a little more time and will be well received as they come out of the oven; again, it's nice to have as many plates of this as you have spots to watch the game. If there is only one place to watch the game you still may want to try having two or three platters because people really don't move too much.
Bone in and boneless Buffalo wings and: blue cheese dressing, ranch dressing and Caesar dressing
French fries and onion rings and: ketchup, garlic mayonnaise (aioli) and barbq sauce
Potato skins with: sour cream, green onion, cheese, black olives and of course bacon
Nachos with: cheese, black beans, ground beef, jalapenos, black olives, chopped tomatoes and salsa
Artichoke dip and: crackers, tortilla chips and cut French bread
The Super Entre: Everyone needs a break at half time, so have everything on about ten minutes before half time so you can join in on the fun of the half time show. Don't forget to give your guests a break and even though they have been eating all day they still will be ready for something delicious. You can also make your life easy by focusing on main dishes that don't have to be cooked at the last minute.
Pulled pork sandwiches with caramelized onions: pickles, a big leafy green salad and roasted vegetables
Meatball subs and: chopped salad, roasted vegetables and curly Parmesan pasta
Blackened chicken sliders with Swiss cheese and honey Dijon mustard and: chopped salad, cantaloupe and roasted red potatoes
Grilled Steaks with: re-baked potatoes, green beans and Caesar salad
Dessert: It's possible after all the food you've served and your guests have consumed there will still be people hungry for dessert, so even though you may want to don't skip it! You can go with 1-2 bite desserts or a large portion; it's up to you.
Black forest cake with: ice cream and chocolate sauce
Build your own Sunday with: M & M's, chocolate and caramel sauce, whipped cream, chocolate chips, peanuts, and almonds
Cupcakes: try frosting them with the colors of the two opposing teams
Brownie sundae with: ice cream, chocolate sauce, candy toppings
Your team may not win the super bowl, but you and your guests will win at eating on this Super Bowl Sunday!