In my early 20's I worked at a restaurant called Larchmont grill and the owner at the time had a
love for this delicious salad. I fell in love with it as well, it's a bizarre concoction of creamy, salty, sweet goodness, and if it weren't for him I would have never known.
This recipe has a slightly fiery twist. The chipotle powder adds a layer of spiciness that's out of this world.
If you liked this recipe try our Spanish salad.
Barbq chicken salad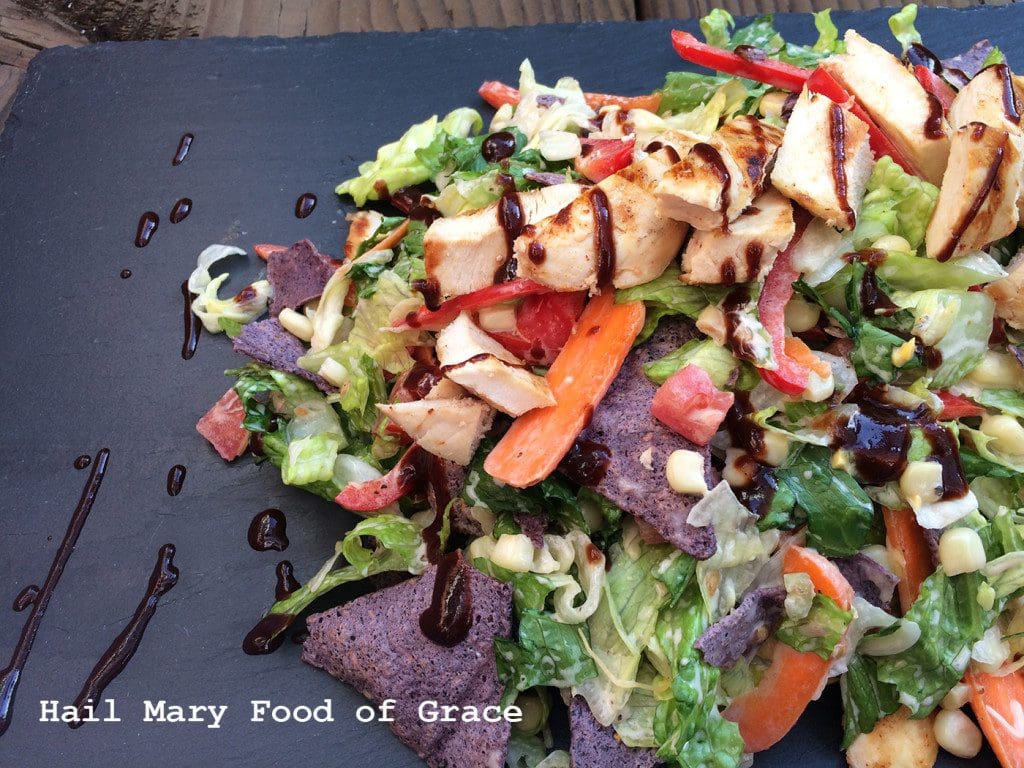 Course: Dinner, Lunch, Main, Salad, Sides
Cuisine: American
Keyword: salad, recipe, barbq, chicken, salads, dinner ideas, summer
Servings: 2 People
INGREDIENTS
1/2 cups carrots peeled and thinly sliced
1 ea red bell pepper deseeded and sliced into thin strips
1/2 cup corn lightly cooked
1 each Roma tomato small diced
2 each Chicken breasts small diced
1/4 teaspoon chipotle pepper powder
1/2 cup blue corn tortilla chips
1/4 head iceberg lettuce
1/8 cup ranch dressing
1/4 cup barb sauce
tt to taste Kosher salt and pepper
INSTRUCTIONS
Preheat a grill pan or your grill to a medium-high heat.
Sprinkle your chicken breast with chipotle powder, salt and pepper.
Spray your chicken breast with nonstick spray to prevent it from sticking to the grate and to help give it better color.
When the grill or grill pan has come to the appropriate temperature add your chicken breasts and cook them for 15 minutes, 7 ½ per side, and don't forget to turn rotate the chicken for grill marks.
In a large bowl add the carrots, bell peppers, tomatoes, corn and lettuce.
Next, when the chicken has cooled, slice it on an angle and then add it into the bowl.
Add the ranch dressing and turn the lettuce with a plastic spatula (the one you would use for mixing cake batter).
Next season the salad with salt and cracked pepper and keep tossing.
Next, add the chicken and tortilla chips.
Place everything onto a platter or individual plates.
Drizzle barbq sauce all over the top (I promise it's delicious).
Remember this is a large dinner or lunch salad and should be served as the main course, but if you want it as a side half the amount.
Serve and enjoy.