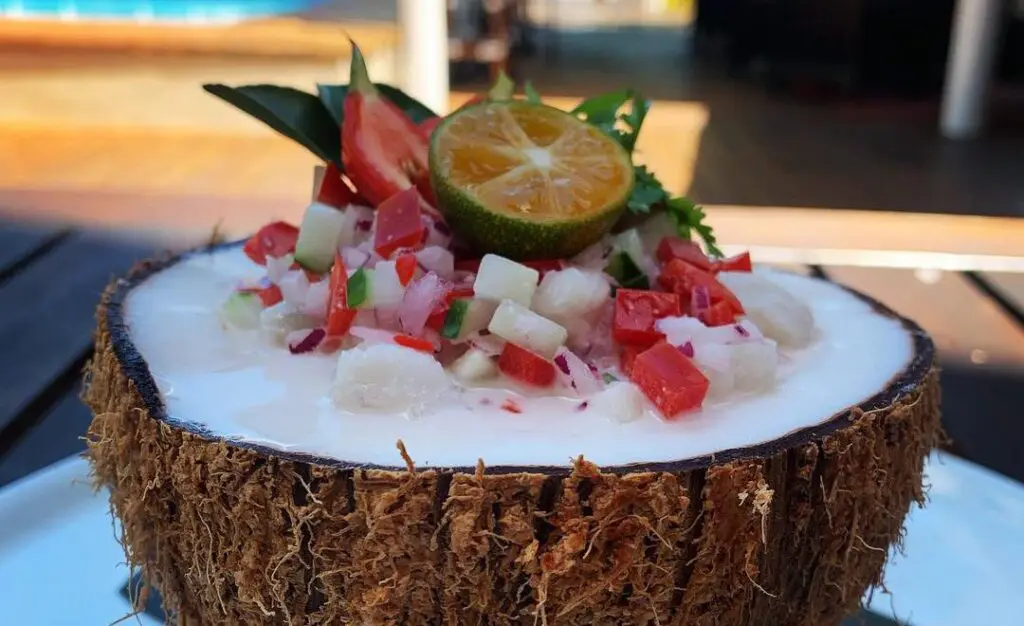 Kokoda (Kokonda) is a delicious Fijian dish that I stumbled upon at Musket Cove, thank goodness. After months of my husband working on a movie in Fiji, I was able to experience the tropical, crystal blue paradise firsthand. As always whenever I travel, I search for the best food, the most unique flavors and a truly cultural dish. After being on Nadi island for a week I was grateful for bread and pizza for my kids, but alas, aside from curries, hamburgers and pulled pork sandwiches there wasn't anything that proved to be inspiring. We planned to island-hop to make the most of Fiji, so with bags packed we were ready to take an adventure to Musket Cove Island.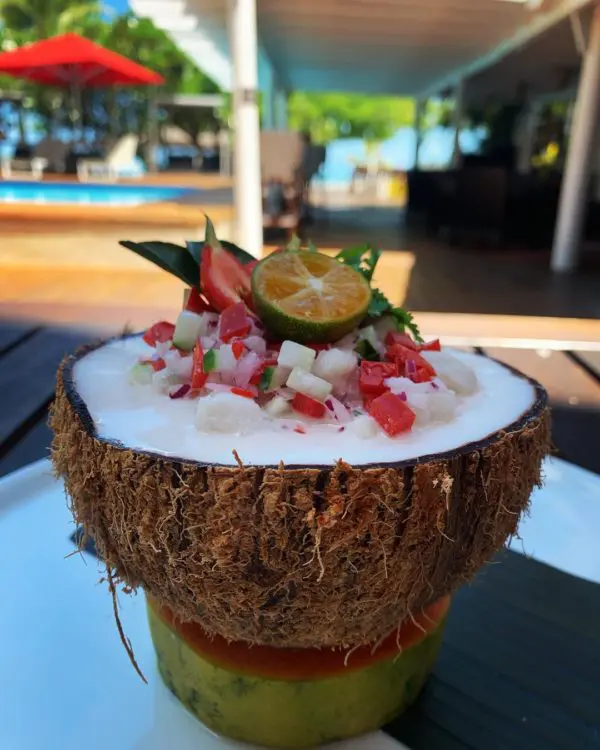 As we cruised across the blue hypnotic water, we arrived to a place of dreams. As we pulled into the dock, the islanders were enchanting us with their poetic music. The resort proved to be magical with its open indoor, outdoor floor plan and its tiki design.
Food was on my mind (as it always is), so off we went to the beautiful resort restaurant by the pool. As I glanced through the menu and asked about the specialties, Kokoda was highlighted. The description was unique yet familiar and most of all sounded delicious and refreshing in the tropical heat and humidity.
As the Kokoda was delivered to the table the beautiful coconut first caught my eye. Next the beautiful splashes of red and green tossed in a milky white substance was exotic and new. At first bite not only was I impressed by the look but also the taste.
So, what is Kokoda exactly, it resembles ceviche, by way of the cooking method. It's made with lime, cured Walu (a white fish that's meaty inconsistency and buttery in flavor), tomato, onion, chili, house pressed coconut and a few other subtle flavors. The exciting main difference between Ceviche and Kokodo, is, the rich coconut milk added after the fish has been cooked by acid to bring out the sweetness in the fish.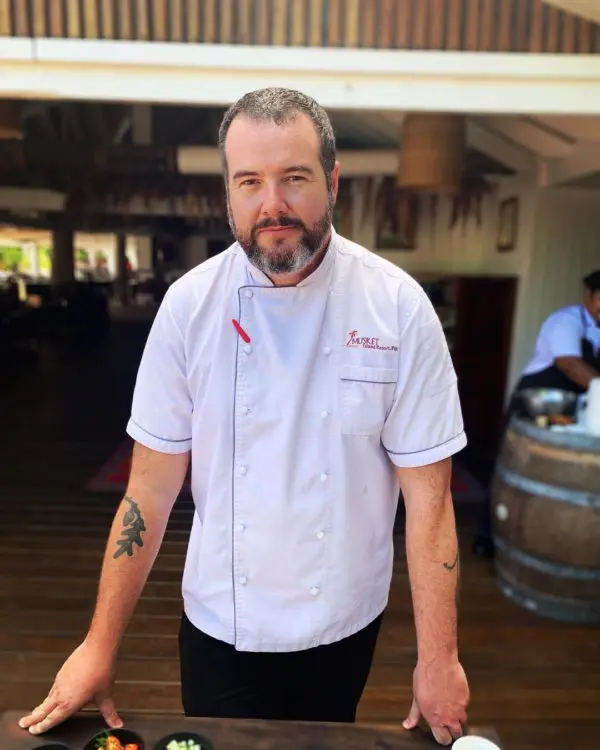 Chef Gareth the lead Chef at Dick's Place Bar and Bistro is a world-class chef with unique opportunities that most chefs only dream of. He can talk directly to the farmer, Dharmendra Singh to discuss new and different fruits and vegetables he'd like to include on the menu. Then farmer Singh begins his plan to fulfill the chef's wishes. 
Musket Cove grows their own food on their farm that's five-acres, pesticide and herbicide-free. Their farmer, Singh focuses on using his years of experience in farming to use the land and its tropical climate to his advantage.
Not only does Musket Cove grow their own fruits and vegetables, but they also extract honey from their multiple hives, collect eggs from their well-fed hens and so much more. These organic treasures are found in all three restaurants as well as for purchase at their market.
While this delicious dish is found on the island as a light and decadent bite during the hot humid day, it can also be accomplished at home. Take a look at the video below to see exactly how Chef Gareth and Musket Cove accomplished such a delicious dish and you don't have to take my word for it, you can always head to the island to enjoy a vacation that's beyond your wildest imagination.
How to Make Kokoda.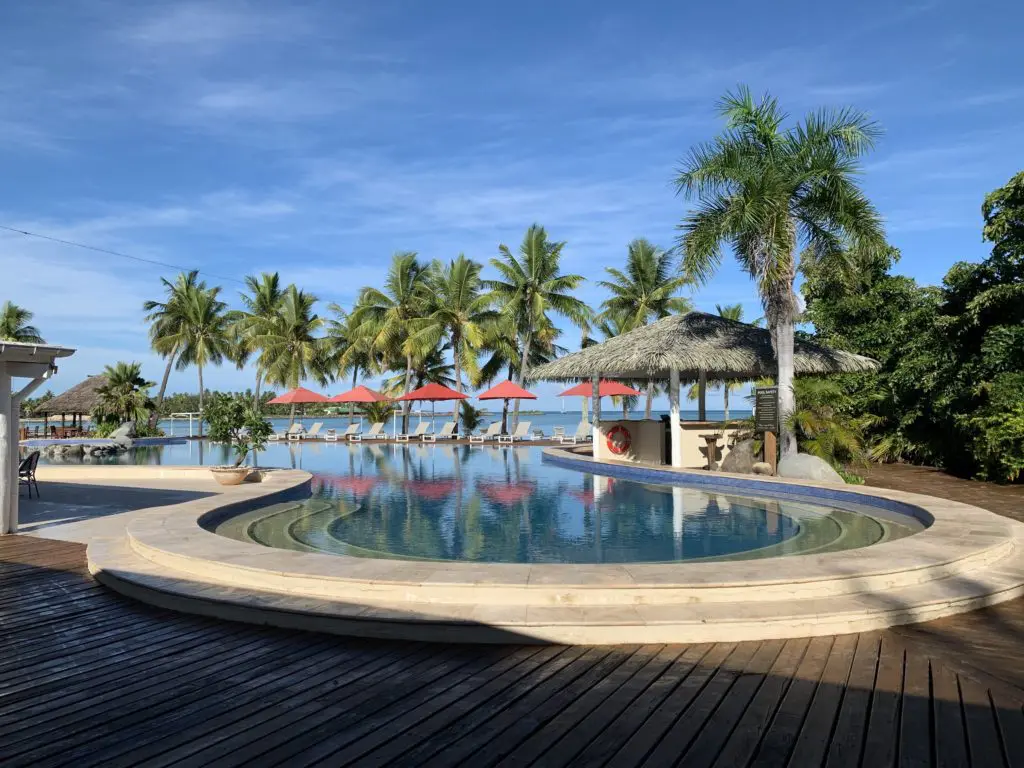 Thank you to Will Moffat and Josephine Moffat; Directors of Musket Cove, Gary Snodgrass; general manager, Laisa Gonewai, Chef Gareth, Farmer Dharmendra Singh and the wonderful staff. We were honored to be guests at your resort.
Visit Musket Cove Fijian Resort www.musketcovefiji.com