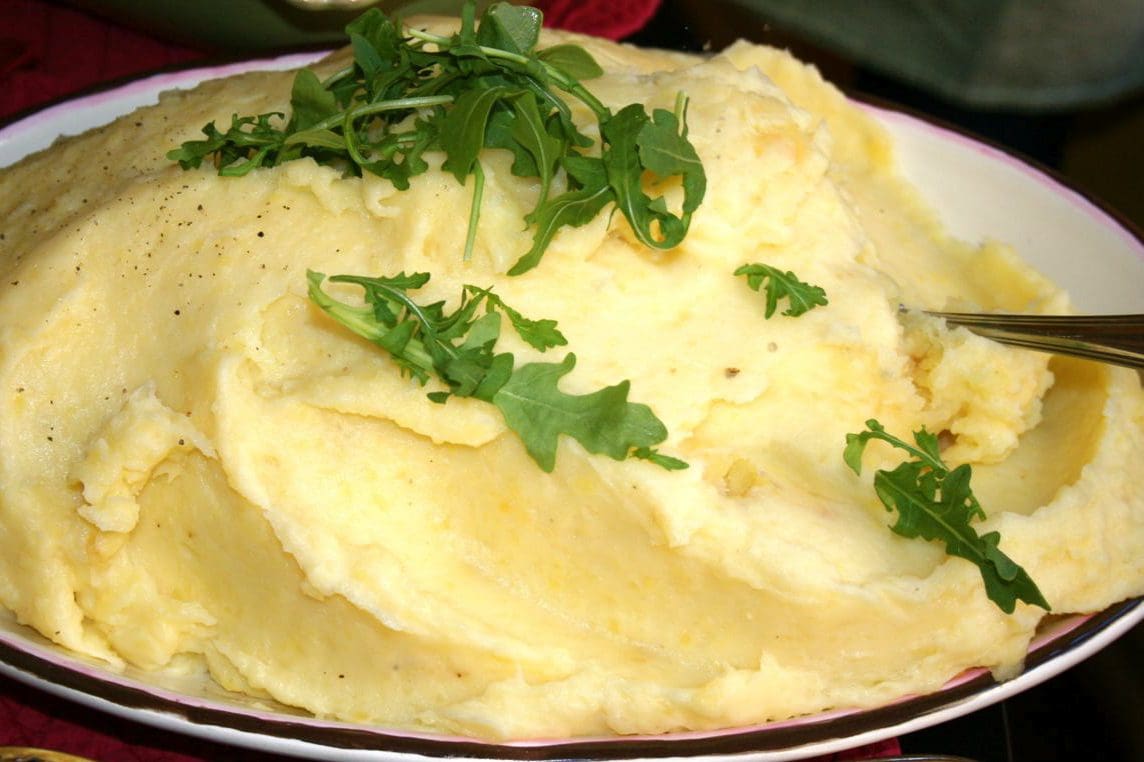 Have you ever wondered why restaurants have perfect mashed potatoes and yours may be lumpy and tasteless?
Every year at Thanksgiving and Christmas my family and I sat around the dining room table like countless others and enjoyed our holiday feast. Mashed potatoes were on our menu. At our house, a bowl full of watery, flavorless and almost transparent potatoes was awaiting us on the buffet.  Needless to say, I typically passed on this unappealing dish, I had no idea how good mashed potatoes could be.
Missing out on the delicacies of mashed potatoes, I soon found myself looking for an alternative, which is how I found the instant mashed potato from my high school. Though not perfect, I found that adding butter, salt and pepper would make these flavorless fake potatoes quite delicious and, as sad as it was, miles ahead of our traditional family staple.
The epiphany about potatoes came in cooking school. After potato week I realized that potatoes could be so much more. We learned about adding more salt than you could ever imagine, that liquids incorporate into mashed potatoes better if they are hot and by continuing to cook the potatoes on the stove after you remove the water will prevent them from being watery.
After learning these techniques I wasn't willing to fight for the instant mashed potato any longer. Those days of being somewhat satisfied were over and a new day had arrived. I had seen the light. Mashed potatoes could be what they were built up to be.
While cooking in a restaurant kitchen I discovered the Yukon Gold potato. I was mesmerized by how different they were from customary potato, i.e. the Russet. Instantly, I was enamored by its creamy texture and delicate flavor. This was not the potato of my childhood or even the one from cooking school; it was everything I ever wanted from a potato and more.
With the holidays approaching, remember you're the cook and you have control.
Tips on the Perfect Potato –
Try buying Golden Potatoes (Yukons) instead of Russets. They have a smooth golden outside and are much creamier inside. You can cook them like your regular mashed russet potato.
For those of you who don't know, when you boil them after peeling them, make sure you cut them into equal pieces so that the potatoes, no matter what type, cook at the same rate. When the potatoes are finished cooking, pour out the water and put them back on the stove for a few more minutes. It will help cook out the water. You can check to see if the potatoes are done by piercing a small pairing knife through the center of the potato.
Next, heat the cream and butter. These liquids incorporate into the potatoes easier if they're hot.
While the liquids are heating mash the potatoes. You can use one of two tools to do this… 1. A Ricer around $150, (I just bought one and I love it). It turns the potato into rice looking form, which you can easily mash and it gets rid of all lumps. Or 2. Potato masher around $20. (Spend a little extra and buy the one with a rubber handle, you will thank me later) This is cheaper than the ricer but you don't have near the same results.
As you are mashing the potatoes, add the butter and cream mixture (low-fat milk for those of you who are watching the calories and for those who want no calories try chicken stock, for those who are vegetarian, try vegetable stock, and if you are looking to add a superfood to your meal try mashed sweet potatoes instead of the Yukon Gold). Make sure you're adding in the salt; always add more than you think.
Potatoes take a lot of salt to release their delicate flavor. If you aren't comfortable with adding a lot of salt you can do a test. Put a scoop of potatoes into a small bowl and add salt until you get the taste you are looking for and then mimic the taste in the larger batch. It will help boost your confidence without the risk of ruining the whole bowl.