Easter is just around the corner, and you're probably starting to plan your Easter party. If you're wondering what to serve your guests, look no further than egg sandwiches. Last year I went to our regular Easter event and brought a delicious quiche, but watching guests struggle to eat them, hold their Bloody Mary, and hold a basket full of their children's newly found eggs was painful. This year I made delicious egg sandwiches, and here are a few more reasons why egg sandwiches are the best option for your Easter party.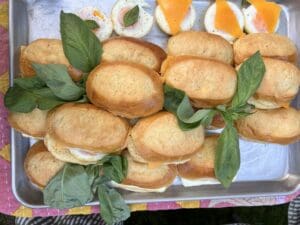 They're Easy to Make Egg sandwiches are incredibly easy to make, even if you have a lot of guests coming. All you need is some mini brioche buns, eggs, cheese, and a few other ingredients, and you're good to go. Use muffin pan or mini loaf pans (about 8 in a pan), spray with nonstick spray, crack an egg into each hole, season with salt, bake at 350 for 12 minutes. Then you can remove them in the oven and place them in the brioche buns with cheese. Voila. You can even make them ahead of time and store them in the refrigerator until you're ready to serve them.
They're Versatile One of the best things about egg sandwiches is that they're incredibly versatile. You can make them with a variety of ingredients, from bacon and cheese to avocado and tomato. You can also switch up the bread, using anything from a traditional white bread to a more artisanal loaf. Their all delicious.
They're Crowd-Pleasing Egg sandwiches are a classic favorite, and most people love them. They're a safe choice if you have picky eaters or guests with dietary restrictions. You can even make vegetarian or vegan versions with tofu or tempeh instead of eggs.
They're Portable If you're having an outdoor Easter party, egg sandwiches are the perfect food to bring along. They're easy to transport, and you can serve them on a platter or in individual containers. Your guests can grab them and go, making them the perfect snack for an Easter egg hunt or other outdoor activities.
They're Budget-Friendly Egg sandwiches are a budget-friendly option for your Easter party. Eggs and bread are both affordable, and you can buy the other ingredients in bulk to save money. You can even make the sandwiches with leftover ingredients from other meals.
Egg sandwiches are the perfect food for your Easter party. They're easy to make, versatile, crowd-pleasing, portable, and budget-friendly. Whether you're having an indoor or outdoor party, egg sandwiches are sure to be a hit with your guests.