Spring is a season of renewal, growth, and rejuvenation. As the days get longer, and the weather gets warmer, people tend to switch to lighter, fresher, and more vibrant meals. It's a time to enjoy fresh seasonal produce and enjoy the beauty of nature. If you're looking for some inspiration for delicious and healthy dinners to make during spring, here are some great options:
Grilled salmon with asparagus and new potatoes: Salmon is a healthy and delicious fish that pairs perfectly with fresh asparagus and new potatoes. Brush the salmon with olive oil and season with salt and pepper, then grill until cooked through. Roast the asparagus and new potatoes in the oven with some garlic and herbs, and you have a tasty, nutrient-packed dinner that's perfect for spring.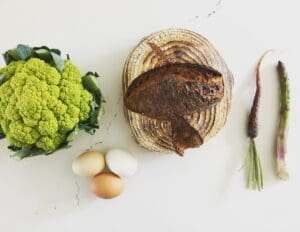 Spring vegetable risotto: Risotto is a great way to use up any leftover vegetables you have in your fridge. In this version, you can use fresh peas, asparagus, and spring onions to make a creamy and flavorful risotto. Add some Parmesan cheese and fresh herbs, and you have a comforting and satisfying dinner that's perfect for a chilly spring evening.
Spring green salad with grilled chicken: A spring salad is a refreshing and light dinner option that's perfect for warmer days. Use fresh, crisp greens like arugula or spinach, and add some sliced avocado, cucumber, and radish for crunch. Top with grilled chicken or salmon, and drizzle with a zesty vinaigrette for a healthy and flavorful meal.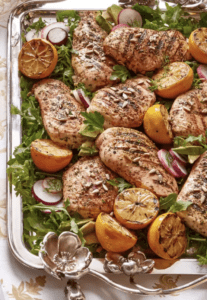 Lemon and herb roasted chicken with roasted vegetables: Roasting a whole chicken is a great way to feed a family or have leftovers for the next day. In this recipe, season the chicken with lemon, garlic, and herbs and roast with fresh spring vegetables like carrots, fennel, and asparagus. The result is a delicious and satisfying meal that's perfect for a cozy spring evening.
Spring pea and mint soup: Spring peas are a classic spring ingredient that makes a wonderful soup. Simply sauté some onions and garlic, add fresh peas, vegetable stock, and a handful of mint leaves, and let it simmer until tender. Puree until smooth and add a dollop of crème fraîche or yogurt for a creamy and refreshing dinner option.
Spring is a great time to experiment with fresh, healthy, and seasonal ingredients. From grilled salmon to spring pea soup, these dinners are packed with flavor and nutrients that will leave you feeling satisfied and energized. So, try out these recipes and enjoy the beautiful flavors of spring!