This Easter, decorate your table with these adorable Easter Grilled Bunny Burgers. They'll be a hit whether you're an adult or a child.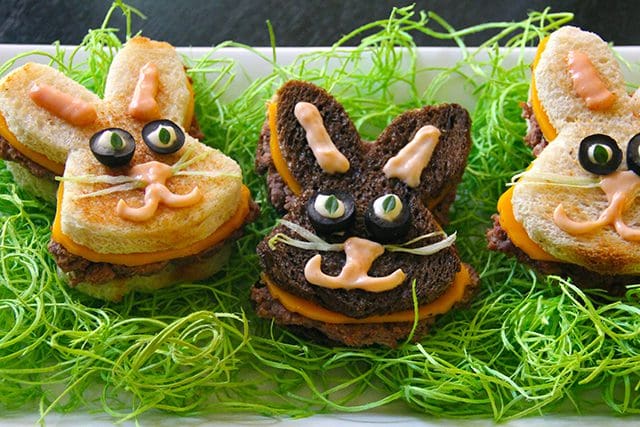 The recipe was created with cookie cutters from my childhood. Only back then they were used for cookies, but in this green day and age why not repurpose or create new uses for old things.
Serves 12
Ingredients:
2 lbs 80/20 Ground beef
1 cup Tomato sauce
1 teaspoon Salt
1/4 teaspoon Pepper
24 pieces of White, wheat or rye bread
3-4 leaves of Iceberg lettuce
12 Cheddar cheese
½ cup Ketchup
¼ cup Mayo
2 sprigs Thyme leaves
24 circles Black olives
2 tbsp butter
Non-stick spray
Directions:
Hamburgers – In a large mixing bowl add the tomato sauce and ground beef. Mix the tomato sauce into the ground beef completely. Once it is mixed season the beef with salt and pepper.
Next, use non-stick spray and generously coat a cooking sheet. Then spread the ground beef mixture on the bottom of the pan, the beef should be ¼ in thick (more or less to your liking).
Place them in a 350 degree oven for 12-14 minutes or until the meat is cooked completely. When the meat is cooked use your cookie cutter to cut out the bunny shapes and set them aside. (You may have to use your knife to cut the meat around the cookie cutter)
Cheese – Cut the cheese into bunny shapes and set aside.
Lettuce – Shred the lettuce into thin slices and set it aside.
Sauce – In a small bowl mix ketchup and mayonnaise together and put it into a baggie. Then cut a small hole at the tip so the sauce can be piped onto the bread. Set aside. In another bag add mayonnaise and again cut a small hole at the tip of the bag.
Bread – Use your cookie cutter to cut out bunny shapes. Next grease a non-stick pan with butter and grill the bunny bread.
Bunny Burgers
In the non-stick sauté pan add the bottom bread and layer it with the meat, cheese and top bread. As soon as the meat and cheese and bread have melted together remove it from the pan and set it aside.
Lastly, decorate the hamburgers with the bunny face. Olives and mayo for the eyes and thyme leaves for the pupils. Pipe the sauce into the nose, mouth and ears. Last garnish the face with the lettuce whiskers (this can take some time so you can always put the lettuce inside the burgers instead).
Serve on Easter grass or green napkins.