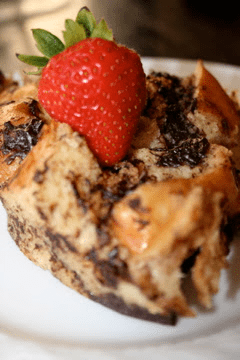 Challah Brioche Bread Pudding
A rich delicious treat.
1/2 a loaf of good challah, brioche, or croissants
8 eggs (use 4 of them just for the yolks)
1/2 cup 2% milk
3/4 cup half and half
1/2 cup sugar
Cut bread into 1 1/2 in. cubes and let sit out to dry (the dryer the better). Mix together eggs and sugar, then quickly add milk and half and half. Add the bread and mix with your hands to keep the bread in squares. Put into a 3 inch dish that has been sprayed/greased heavily. Place that dish in a pan of water and cover with foil. Bake for 45 minutes.
Happy Cooking!
Mary
Send your questions about food, cooking and life in the kitchen to:
hailmarys.inc@gmail.com