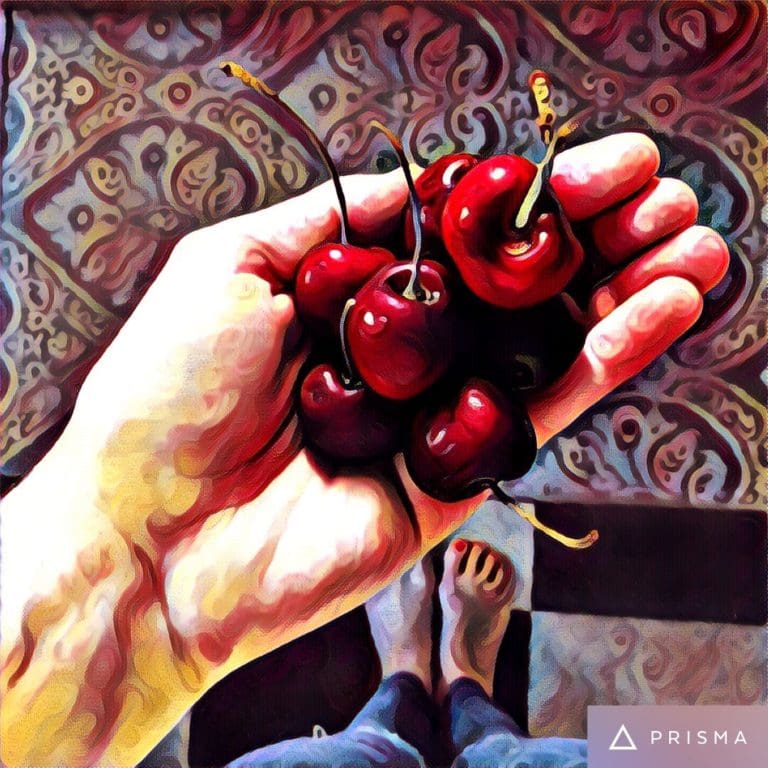 Los Angeles, Ca, –Summer cherries are something I look forward to all year. Cherries are one of those special fruits you aren't able to get year round, so the anticipation grows during the dormant months. As a child my summers were always spent on Lake Michigan. For those of you who know Michigan is where the cherry capital of the world is. On almost every corner of Northern Michigan you will find cherry stands filled with the brightest cherries and acres of cherry trees lining the highways.
I'm not alone with my love for cherries. There are tons of us who wait for our cherry pies, cobbler and even ice cream.
My grandfather loved cherries as well, he decided to stop at a nearby stand to pick up a basket or two of bright, sweet, red cherries to bring home.
As he patiently waited for his turn to pay, he noticed a complimentary bowl of nuts. Also a lover of nuts, he decided to help himself to a great big handful.
As he tossed them in his mouth, he realized at that moment they were not, in fact, nuts (peanuts), but they were the day's discarded cherry pits from the buyers who stopped by the stand.
As you could imagine, the pits flew out of my grandfather's mouth as fast as they went in. Disgusted by his situation, my grandfather continually spit on the way home until he was able to thoroughly wash his mouth out with Listerine and, probably his cure-all, Bactine. Thankfully he wasn't too embarrassed with his encounter of chewed cherry pits and shared his misfortune with all of us.
But, as he told the story, he attached a warning.
"Don't eat what you think are nuts at the cherry stand," he said.
I can't look at discarded cherry pits without chuckling a little over my grandfather's misfortune.
Cherries are a good source of potassium and come in three varieties: sweet, sour and wild. We most commonly eat the sweet and sour. The sour is known as a Montmorency Cherry, a pale yellow and rosy red-colored cherry. They sell in California from $5.99 to $7.99 per pound. The Sweet cherries are a dark red color with tons of meat inside and run from $3.99 to $5.99. The sweet cherries are so sweet and juicy you should definitely have a towel handy while you eat them and don't stand over white carpet as you chow down. I have dyed my fingers red eating these delicious morsels.
Don't forget to follow Mary on Twitter. and on Instagram @marypmoran (the image in the article is from my page)
Cherries in general are a great diuretic and benefit the skin. Beware, like anything in excess, that too many cherries will cause discomfort and nausea.
Buy cherries that are perfectly plump. Avoid those that are bruised, discolored or wrinkly. Wash them right before you eat them and, if it's possible, don't keep them bunched up in a bag. Layer them in a plastic container between parchment paper with the lid off. Always keep them refrigerated and remove the cherries as they start to go bad: One bad cherry can ruin the lot.
Cherry season is almost over and, since I've been looking forward to them all year, I'll be buying them in excess until I can't get anymore. Cherries are a delightful treat that help us remember it's summer, so the next time you're at a cherry stand and notice the complimentary nuts, take a second look to make sure they aren't discarded cherry pits.
Have you ever eaten something that you thought was something else? We want to know!