This recipe will leave you wondering whether it should be included in the appetizer, main course or dessert section of a menu. The combination of sweetness, saltiness and sourness is indescribably good. It will leave you wanting more!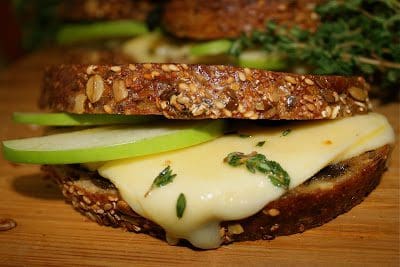 Ingredients:
8 slices muesli bread
3-4 tablespoons butter unsalted
1 tablespoon olive oil
8 slices Baby swiss cheese
2 sprigs of thyme leaves
1 tablespoon honey
1 green tart apple
Directions
Preheat the oven to 350 degrees. Heat a large sauté pan with ½ the butter and ½ the olive oil, place 4-5 slices of the muesli bread into the pan. Brown both sides and place on a cookie sheet. Brown the rest of the bread slices and place them on the cookie sheet. Next layer with baby swiss, sliced apples, thyme leaves and lightly drizzle with honey.