LOS ANGELES, CA – The Lovely Rolling Pin is an innovative design with old-world craftsmanship. The rolling pin has 3" cylindrical handles on each end, but instead of the center being bigger in circumference like typical rolling pins, the Lovely Rolling Pins' cylindrical handles are bigger in circumference than the middle. Thus, it allows bakers to roll dough to a similar thickness every time.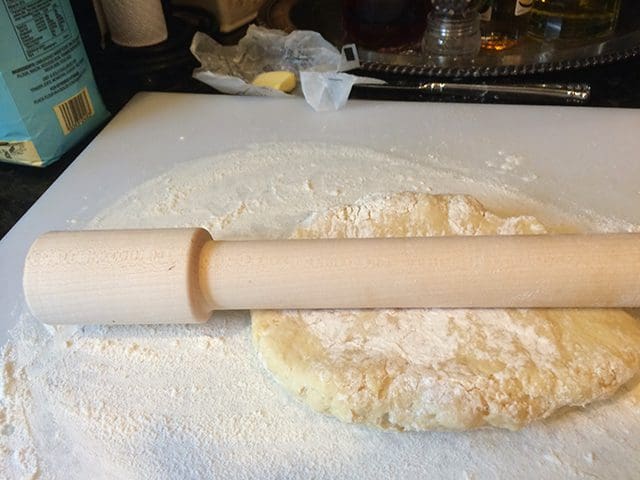 J.K. Adams has brought the best and most innovative products like hardwood cutting boards, bowls, utensils, wine and knife racks available. The difference between their products and other products in the market place, is they make them to be an heirloom to be passed down from generation to generation. Each piece is made by hand and bears their signature craftsmanship from their Vermont artisans.
The rolling pin is one piece and looks a bit odd therefore, the question remains, does it really work, will it allow you to roll out similar thickness every time and will it work for the home baker?
Thus our test is warranted.
Pie Crust test:
Step 1: Mix the ingredients together (See Chef Mary's Peach Cobbler)
Step 2: Roll the dough into a ball
Step 3: Cover a large board with flour.
Step 4: Use the rolling pin to roll the dough into a similar thickness.
Outcome:
We found it was easy to roll the dough to the similar thickness. Our cutting board was large but not large enough to fit the rolling pin. Our kitchen is small and we found that maneuvering the long rolling pin around in such a small area proved to be difficult.
Pros:
First, we loved the feel of the rolling pin, it feels like something special that you would want to hang on to forever.
Second, we loved that we could set the rolling pin on top of the dough and check the thickness and we didn't have to use a ruler.
Third, the handles made it easy to roll out the dough.
Fourth, It is easy to clean.
Cons:
First, the rolling pin was too big for our cutting board.
Second, when you commit to one of the rolling pins you do so knowing the max size of the dough you will make.
Third, when you purchase this rolling pin you are committing to roll your dough to a certain thickness and if you desire a different thickness it requires more effort.
Overall Rating: 1 cup out of 1 cup. The Lovely Rolling Pin by J.K. Adams is really a great product. This is a good gift for people who love to bake and even for those who don't. However if you give it as a gift for those who don't bake make sure you buy them a length that fits in their kitchen, otherwise it might be the first thing sold at a garage sale.
Purchasing Info: The Lovely Rolling Pin can be purchased at the Container Store, Sur la Table and on their website jkadams.com. For more great cooking tips, recipes and stories from Chef Mary, visit her at commdiginews.com and her website at marypaynemoran.com
Follow Chef Mary on Twitter @chefmarymoran