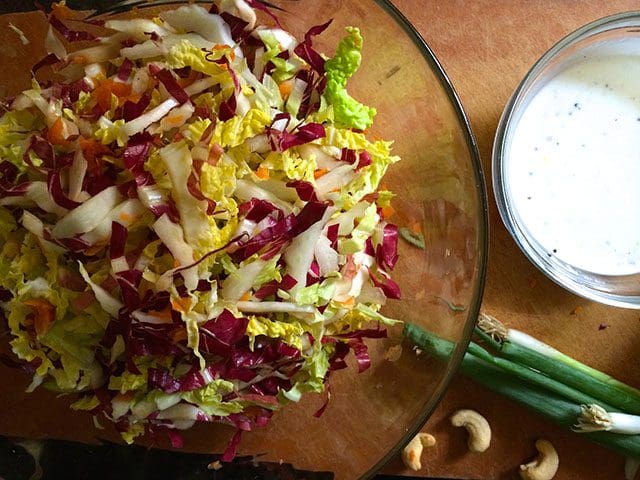 This coleslaw is delicious with a light and acidic dressing that pairs perfectly with all the delicious fried foods and sweet barbq.
Ingredients:
3 cups Napa Cabbage cut into thin strips
1 cup red large endive cut into thin strips
3 green onions thinly sliced
½ carrot peeled and grated
¼ cup mayonnaise
¼ cup champagne vinegar
½ tablespoon Dijon mustard
2-tablespoon olive oil
¼ cup whole toasted cashews
½ cup dried cherries (optional)
Directions
Mix the Napa cabbage, endive, carrot, green onion, cashew and dried cherries (optional) in a bowl.
In another small bowl whisk together mayonnaise, champagne vinegar, olive oil, Dijon mustard and salt and pepper.
When you are ready to serve the coleslaw toss the Napa cabbage mixture with the dressing and season it with salt and pepper.
Napa cabbage cashew coleslaw
Course: Salad, Sides
Cuisine: American
Servings: 4