Contributed by guest blogger: Jennifer Allen
If your kids are anything like mine, they could spend all day at the pool if I let them! Can you blame them though? It's hot outside, the water is cool, and the fun is endless. As an adult, I too
love spending time at the pool. I love being outside. There's also the added bonus that the kids will wear themselves out from swimming so much. This increase in activity will likely lead to increased appetites! What better way to nourish this appetite, than with wholesome snacks?
Today, I'll be sharing some helpful poolside or beachside snack ideas to keep you and your family healthy. These snacks will help satisfy your sweet or salty craving and keep you feeling energized. All you need to do now is fill up your pool bag or cooler, head to the water, to enjoy the summer sun!
Pool Bag Snacks:
Chips are a common go-to snack for the pool. Instead of going for the Doritos or Fritos, opt for ones made with natural ingredients and without additives such as multigrain or blue corn tortilla chips.

You can also make your own chips at home. Simply preheat your oven to 350 degrees, cut corn tortillas into triangle size pieces, and bake for about 12 minutes. Flip the chips halfway through the cooking process and add a little sea salt. Remove from oven and enjoy.

Energy mix (or "trail mix"). Instead of buying a pre-made mix, you can easily make your own by adding a combination of your favorite nuts, seeds, and dried fruits. This makes for a balanced snack with protein, fats, and carbohydrates.

I use a combination of walnuts, pumpkin seeds, sunflower seeds, cashews, almonds, and dried cherries.

Healthy Homemade Blueberry Muffins. Most of the boxed or pre-made blueberry muffins you buy from the store or bakery are high in calories and low in nutrients. Instead, try out my healthier version on this traditional muffin.

3/4 cup oats (I use oats and quinoa mix)3/4 cup whole wheat flour2/3 cup almond milk1/3 cup brown sugar1/2 tsp. baking soda1/2 tsp. baking powder1/2 tsp. cinnamon1 tsp. vanilla extract2 tbsp. butter1/2 tbsp. honey1 egg1 cup fresh blueberries 
Preheat oven to 350 degrees. Combine all dry ingredients and mix together. Combine egg, honey, butter (melted and cooled), vanilla, and cinnamon. Add liquid ingredients to dry ingredients and mix thoroughly. Fold in fresh blueberries. Add mixture to cupcake-lined baking pan (this makes for 6-7 muffins). Bake for 20-25 minutes, or until golden brown on the sides.

Homemade Fruit Rollup. Did you know you can make your own fruit leather?

Preheat oven to 170 degrees. Puree your desired fruit (or combination of fruit) and add honey to sweeten. Line baking sheet with parchment paper or silicone baking mat. Cook for about 4 hours, or until fruit is no longer sticky. Let cool, then cut into long strips, roll up, and store in airtight container.

Nut-Free Energy Bites. Instead of purchasing granola bars from the store, you can make your own at home. I decided to use a recipe without nuts since I already had a snack option with them.

1 cup oats1/3 cup sunbutter1/3 cup honey1/2 tsp. vanilla extract1 tsp. chia seeds1/2 cup dried cranberries or chocolate combine all ingredients, cover and let chill in the refrigerator for 30 minutes. Once chilled, roll into balls and enjoy.
For your cooler:
Fruit! You want to talk about "convenience food"? Fruits are so portable and can easily be enjoyed on a hot summer day. Some fruits will hold up just fine against the heat and don't require refrigeration. However, when I'm out in the heat, a nice cool piece of fruit is more appetizing than a warm one. You can also try one of my personal summertime favorites: frozen grapes! Check out my previous post for the nutritional breakdown from fruits.
Vegetables and Hummus. This is a quick and easy way to provide a balanced snack for a day at the pool.
Pasta Salad. Pasta salad is easy to prepare the night before to enjoy at the pool.

Cook whole grain bow tie pasta as directed. Add diced cucumber, diced grape tomatoes, diced orange bell pepper, feta cheese, black olives, and balsamic dressing. Toss all ingredients together in a bowl and chill overnight in the fridge

Watermelon Salsa. This is so refreshing and goes fabulously with blue corn tortilla chips.

1 cup diced watermelon1/2 cup diced cucumber lemon juice1/4 cup diced red onion pinch of red pepper flakes combine all ingredients and chill in the refrigerator for at least 1 hour. Should serving should serve about 2 people.

Water, Water, Water!!! I cannot stress this enough. It is extremely important to make sure you stay hydrated, particularly in the summer. It's easy to underestimate your thirst when you've been in a pool all day. Make sure you bring plenty of water with you and drink up! You can check out my previous post about hydration for more information on staying hydrated.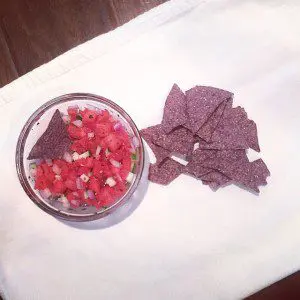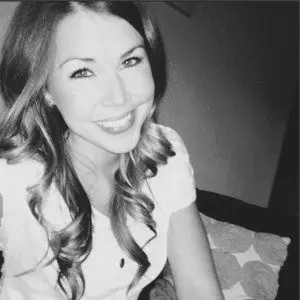 About Jennifer Allen: My name is Jennifer Allen I am a wife, mom, step-mom, and a Registered and Licensed Dietitian in Oklahoma. I am currently working for an endocrinologist clinic where I counsel patients for overall health, weight loss, and diabetes. I've known since a young age that I wanted to be in the health field, just wasn't sure what field was best suited for me. I graduated from the University of Oklahoma with my bachelor's in health and exercise science and began working as a personal trainer. It was while working as a trainer, I noticed how many diet questions my clients would ask me. Even though I had taken some nutrition courses in my undergrad, I personally did not feel it was my place to give certain nutritional advice. Therefore, I looked into becoming a dietitian. I applied to the University of Oklahoma Health Sciences Center and was accepted into their Masters of Dietetics program….. and here I am today! Being a dietitian is my dream job and I am exactly where I am supposed to be! Find more from Jennifer at http://nutritionpeel.com