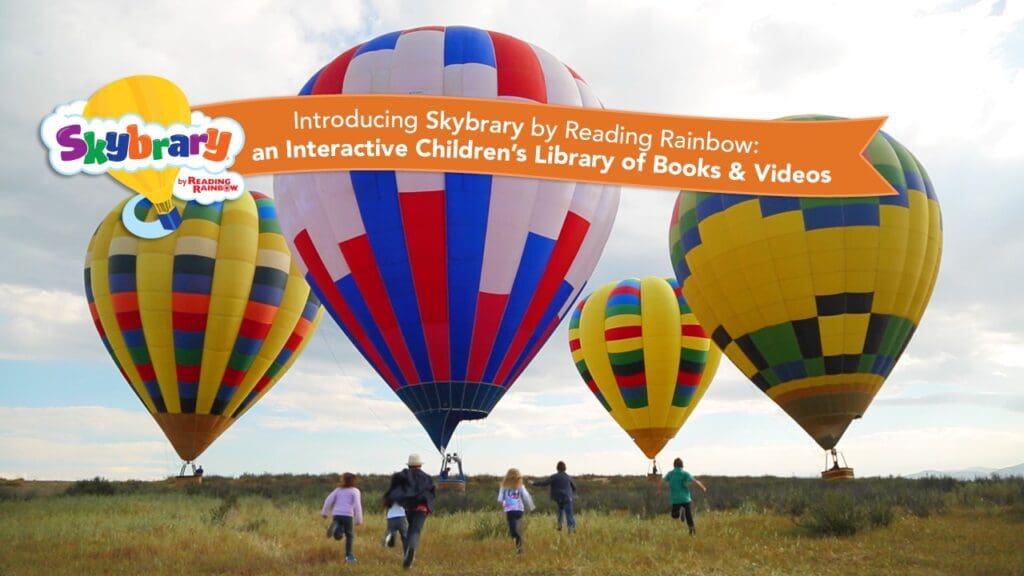 Los Angeles, Ca, August 25th, 2015 – After dinner and baths, it was time to kick back and relax with my kids (if possible, as most of you know 7 pm is crazy hour for kids). I opened my computer and logged into a magical floating world in the newest Reading Rainbow interactive website called Skybrary. I was one of those who watched Levar Burton cry in sheer excitement as his Kickstarter campaign went viral. He and his team collected the dreamed amount in a matter of days (or was it hours?) to bring Reading Rainbow to a new generation and I found myself crying with him. Of course, when the newest addition was added to their franchise I couldn't wait to get my hands on it.
Years ago when there were five channels on my small tube television I would eagerly await a few favorite shows and Reading Rainbow was on the top of my list. The multicolored rainbow captured my attention immediately and the song lulled me into a far off place. When it and my other three shows were over that was the end of television unless I wanted to tune into the latest episode of Pictionary.
Now as a mother my children could have endless television shows at their fingertips and with the ability to record them their favorite shows could be watched from sun up to sun down with no play in-between without intervention.
It's we parents job to intervene into our children's T.V. watching and to encourage reading in this tech savvy world.
So how does the Skybrary App captivate it's audience with books when the technology is so advance that even our babies are getting in on the action?
By a hot-air-balloon of course! My four year old heard the music from the other room and ran in to see what I was doing. We sat on my bed and immediately we were both fascinated with all of the beautiful images. We created a profile for my son- who he is, what his backpack should look like, picked his likes and dislikes from various categories and then instantly we were off into a great big library world full of adventure.
We navigated from National Geographic Island to Animal Island and as the music played in the background it was reminiscent from the classic TV show with a new twist of whimsy. Once we choose our island it took us to a scrolling bar of books and videos. After we choose our books it was checked into his backpack. As we started to read, my child who doesn't always love to read saw the spinning wheel and couldn't wait to click it to see what it was. It was an interactive feature that made the book more fun.
After we finished the books it tallied his page totals so I could see his stats. We were both happy and it was exciting to share something with my son that I had loved years ago.
At breakfast the next morning he couldn't wait to tell my husband all about it.
More about the Skybrary App:
Thanks to the overwhelming number of Reading Rainbow fans Burton was able to earn 600% of his desired goal on Kickstarter.com and raised $6.4 million. And in May of 2015 Burton, Wolfe and the RRKidz team launched their website as promised.
The Skybrary is available now on readingrainbow.com and offers a 14-day trial. You can then purchase a one-month plan for $9.99, a 6-month plan for $29.99 and a $49.99 annual membership. A great gift for any child who loves to read and a great tool to encourage any child to read.
If you liked this article check out cooking dinner while killing lice.