Pumpkins, every October I jump for joy. I love fall; picking pumpkins, drinking apple cider and eating warm stews and braises. The weather in California finally starts to turn cooler and the light starts to fade earlier in the day. I wish I could say I curl up next to a roaring fire, but alas my electric fake fire has to do. As my kids get older and less interested in decorating for halloween I dread as their interest in pumpkin patches decline as well, pumpkin patches are my favorite.
Let me be clear- a pumpkin patch to me is an actual farm that grew the pumpkins. The parking lots that are filled with colored goods and beautiful pumpkins are fun too, but my real love is the farms. Ever since I was in my 20's I felt the importance of understanding where food comes from and appreciate the hardworking and dedication it takes to get things for millions of people around the globe.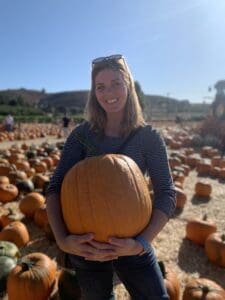 A pumpkin is a reminder that some foods are only available in one season. Have you ever thought about a tomato being available all year round or an apple? These are fruits that should really just be available during summer and fall, however with our genius farmers they have managed to figure out how to make them available all year round. Not that I mind too much, my son LOVES apples and would hate if they weren't available. However, there is something special about waiting and then finally getting produce that you can't wait for.
We said goodbye to the watermelon and now we embrace apple season, winter squashes and root vegetables to keep us warm in the coming months.
When you step out of your car there's a smell of straw, dirt and squash in the air (yes squash and pumpkins have a smell). The green fields are usually golden yellow with hints of green that haven't died yet. The sounds of rustling leaves, farm animals in the distance and children laughing travel with the wind.
Seeing rows and rows of pumpkins is of colors, sizes and textures brings me incredible joy. Finding the right pumpkin is an art. Not to dented, scratches that won't interfere with carving, a long stem perfect for holding. There are so many things to consider when buying pumpkins. Are they for stacking, decoration, table decoration, kids painting, carving, or eating.
When my children were little it was fun to see which pumpkins they would pick. They would usually find one thing about their pumpkin that made it necessary for purchase. It would be the tallest pumpkin, or the fastest or have the longest stem possible. They would over look that it was dented and juice was leaking out, or that it was completely flat on 1/3 of the pumpkin. In any case they were thrilled about their pick.
As always after leaving the farm, your tired, dirty and happy from selecting something special that symbolizes your love for fall.
The final touch, placing your fall pumpkins in the perfect spot.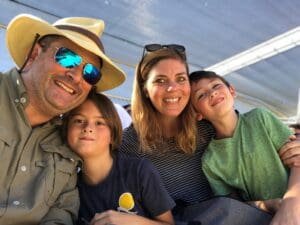 Thank you to all the hardworking farmers out there and giving us fall joy!
Special Thanks to my favorite farms, Underwood Farms and Pond Hill Farm