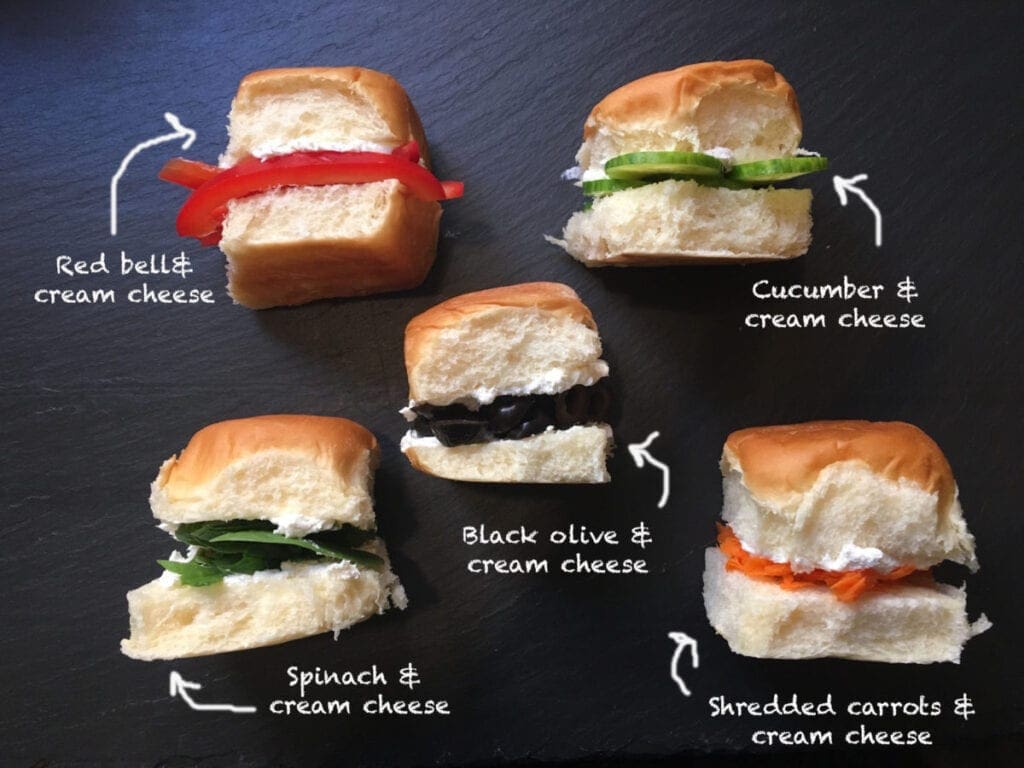 Here are a few more lunchbox lunch sandwich ideas. Can you remember being a kid, eager for lunch. Stomach rumbling, tired from your brain being filled with numbers, letters and words, your only savior for the day is lunch. You eagerly open your bag to find a smushed sandwich, warm yogurt and, well, only you know what was in your lunch. Needless to say it didn't always leave you satisfied. As a parent
I feel equally overwhelmed with packing a nutritious meal that my child will actually eat. I've now been in the lunch box game for five years and some years are easier than others-why you ask, it really depends on my child's appetite and if they can verbalize their wants.
These sandwiches were created with a few ideas
adding veggies that my kids will want to eat
making them with good and easy to eat bread
making them bite-sized
The bread? For these bite-sized sandwiches I used Hawaiian sweet rolls. They are soft, will hold their shape and go with almost anything. Kids like the sweet taste and the soft texture. Plus as an added benefit they don't get stale too quickly. Depending on how hungry your child is I would say 1-3 in a lunch is plenty.
Why add the cream cheese? Think tea sandwiches. Tea sandwiches have been around forever and they are known for using cream and cream cheese to hold their simple ingredient sandwiches together. The key is to buy whipped cream cheese and for a lower fat version buy light cream cheese. Spread the cheese on both sides so the veggies don't fall out of the sandwich.
What about the veggies? Try salting them to make them more flavorful for your kids. In the picture I've shown: shredded carrots, baby spinach, black olive (yes it is delicious), sliced cucumber (Persian's thinly sliced), red bell pepper. They are all delicious. You can also try avocado, radish and even strawberries.
The most important thing is to try new things at home first. You never want to send your child to school with food they're not comfortable with.
Need healthy crunchy sides? Check out this article. Need bread ideas? Check out this article.