There are never enough chicken shish kabobs when you make them! It's that perfect tasty and fun summer dish that keeps everyone happy. Whether it is the harmonious flavors melting together or the smaller pieces of meat and vegetables that make it so appealing, serving shish kabob is always a crowd pleaser.
If you've never made shish kabob before the first thing you want to find are good skewers. The best skewers are long, made of metal, have a loop at the end, and most importantly, they are not pronged at the skewering end. These skewers allow meats, fruits and vegetables to be pierced without splitting or creating a hole so big that the ingredient hangs off of the skewer.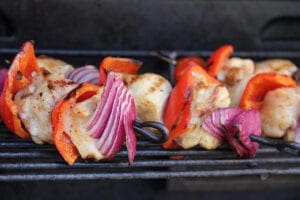 You can buy skewers anywhere and they come in all different styles. They can be wooden, wire baskets (bizarre but true), branch like, made out of wire and even shaped like an S. If you choose to buy any of these frivolous gadgetry type skewers then you'll just have to practice using them to achieve perfection. In cooking school they always teach students that cooking is about putting in the time, learning your own technique and mastering it through repetition.
Next pick out meats that are tender from the start. The grill cooks food hot and fast, which is ideal for tender pieces of meat but not for the tough ones.
It's also important to cut the meats to a similar size so they'll cook evenly. If you are going to mix vegetables, fruits and proteins make sure to cut the vegetables or fruits to a size slightly larger than the meats. Vegetables and fruits cook for a shorter period of time than meats.
When you make shish kabobs for yourself or for others make sure you cook the meat to the appropriate temperature (chicken: 165 degrees Fahrenheit; pork: 160 degrees Fahrenheit; Meat: 120-155 degrees Fahrenheit). A great trick to help ensure the chicken and pork are cooked through is to remove everything from the skewer and toss it in a pan and finish cooking it all in an oven set at 350 degrees for four or five minutes.
Another wonderful trick to finish your perfect preparation of shish kabobs is to toss the cooked mixture with a little lemon juice. That will add an extra layer of flavor that your guests will love!
salt, pepper and Creole seasonings. Set the chicken aside on a clean plate.
Remove the chicken from the package and rinse it off with cold water. Pat it dry with a paper towel. Then cut the fat off the chicken and dice it into 1- to 2-inch pieces. Next season it with salt, pepper and Creole seasonings. Set the chicken aside on a clean plate.

Next clean the mushrooms. They should be lightly toweled without water. You should be able to brush off the dirt. Then remove the stem until there is no woody (tough) part left.

Wash and dry the pepper. Then cut the top and the bottom off. Next place the pepper upright on one of the cut ends and run your knife down along the side. Then open the pepper and remove the white parts (pith) and seeds with your knife. Next open up the pepper and cut into 3-inch parts. (Bell peppers are easiest to cut if you cut on the inside versus the shiny exterior).

Cut the top and the bottom off the red onion and then peel the outer layer of the onion. Next cut the onion into 1- and 2-inch cubes.

Make sure you lightly coat each large metal skewer with olive oil to keep the chicken from sticking. Skewer all vegetables and chicken onto the metal skewers. Keep in mind you will want to put the vegetable on either side of the chicken. Anchor the skewers with the red onion. Brush the skewers with olive oil, Creole seasonings, salt and pepper.

Cook the kabobs on a preheated grill on the lower racks at a medium heat for 10-12 minutes rotating about every 4-5 minutes. Once you have nice grill marks on all sides move the skewers to the top grill racks to finish cooking for another 10-12 minutes.

If you don't have an upper grill rack remove meat and vegetables from the skewer and toss into a baking dish and finish cooking in a 325-degree oven for the remaining 10-12 minutes (cover the pan in foil). Enjoy!

Juice a little fresh lemon over the top of the shish kabobs. Then serve your shish kabobs family style so that everyone can grab what they want