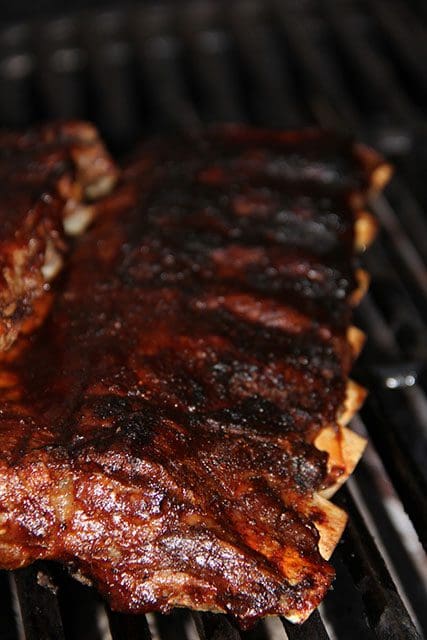 This recipe parboils ribs for faster cooking time. It's easy and delicious.
Ingredients:
2 slabs baby back ribs
2-½ c barbq sauce (I always go for a sweeter barbq sauce made from molasses)
1 onion peeled and halved
1 carrot peeled
½ c Mary's BBQ Spices*
Salt and Pepper to taste
¼ c chopped parsley
*Mary's BBQ Spice:
1 tbsp garlic powder
½ tbsp paprika
½ tsp chili powder
¼ tsp cinnamon
½ tbsp salt
½ tbsp pepper
Directions:
First cut the top and the bottom off the onion. Then peel the outer layer of the onion. Next cut the onion half.
Cut the top of the carrot off and peel it. Then cut it into large chunks.
When you're ready remove the ribs from the package and wash and dry them.
Next in a large pot, fill it almost to the top with water (leave enough room for the ribs). Add the onion and carrot to the water.
Bring the water, carrot and onion to a rapid boil and add both slabs of ribs. Boil for 35 minutes, when you are finished remove them from the pot and set them on a cookie sheet.
In a medium mixing bowl add all of the spices and mix thoroughly and set aside until you are ready to spread it on the ribs.
Next heat your grill to a medium high heat. Rub your ribs with Mary's Spice and a bit of canola oil. Place the ribs on the grill presentation side down (turn down the heat directly under the ribs). Cook them for 15 minutes and then flip. Cook for another 10 minutes and then baste every few minutes for an additional 10 minutes.
Once they are golden brown remove them from the grill.
When you are ready to serve the ribs cut them into three bone segments (its easiest to cut the ribs from the underneath rather than the top) garnish them with chopped parsley and serve them with more barbq sauce.
Baby Back Ribs
Course: Dinner, Lunch, Main
Cuisine: American
Servings: 4